Network Security
Safeguard Your Business Data With Our Network Security Solutions
---
SRV Network specializes in the expert planning, implementation, auditing, monitoring and management of complete data and network security solutions. Network Security is certainly not something you can "set and forget" – nor is it a series of point solutions that are simply strung together. At SRV Network, we believe in a proactive approach to your business safety that results in a well-designed security infrastructure.
7 Parts Of Your Business That Are CRITICAL To Your Safety:
Your Employees – the #1 threat to your cybersecurity. If your employees are not properly trained, it doesn't matter if your security system surpasses Fort Knox. You MUST teach them how to properly identify suspicious online activity as well as how to protect your sensitive data. Schedule your appointment today and let SRV Network train your employees!
Your Network – whether its cybercriminals or other unscrupulous visitors trying to corrupt your network and shut down your productivity, you need a plan to protect yourself from any and all threats. SRV Network provides you with VPNs, firewalls, vulnerability scans, penetration testing, and more – allowing you to grow your business with peace of mind.
Your Devices – if any of your employees are taking company data home with them, your chances of getting breached increase dramatically. Thankfully you can still allow them to do so safely by following three simple steps: identifying, tracking, and encrypting.
Your Space – right now, as you're reading this, someone could be casually walking into your office, inserting a malicious USB into one of your computers, and leaving before you finish reading this sentence. SRV Network can help you to improve your physical security by implementing tracking and logging of visitors, limiting access with locked doors, and more.
Your Policies – Do you have clear and concise written policies on the use of and disposal of sensitive data? We can help you make sure your policies follow code and create/improve them if necessary.
Your Data – How organized are you? Do you know with 100% certainty where all your important data is? Do you have multiple servers, hard drives, folders, etc. where you keep your data? We can help you locate, understand, and limit where your sensitive data resides.
Your Procedures – So you've just upgraded your office with a whole slew of new equipment and now you have a bunch of old stuff full of your business' sensitive data – what do you do? SRV Network can help by implementing proper procedures to dispose of any devices, equipment, and paper records.
You can never be 100% safe, but SRV Network can make sure that you're ready to handle any disaster professionally. Call us today at 1-312-376-2910 and find out how you can eliminate your security worries and get back to doing what you do best – growing your business.
Upgraded Our Entire Network
360 Chicago is the premier observatory in Chicago located on the 94th Floor of the John Hancock building. We're located in three different areas of the building including the 94th, 34th and concourse level all needing to be connected and working together seamlessly. This year we upgraded our entire network. SRV Network, Inc., our service provider for 8 years, worked with our vendors and building riser company to make sure every aspect of the upgrade went smoothly. The upgrade went great and we're very happy with how SRV Network, Inc. helped us through this major upgrade. We value our partnership with SRV Network, Inc. and look forward to working with them in the future.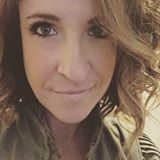 Jennifer Hesser
Director of Operations
360 Chicago
If You Are Not Taking The Proper Steps To Protect Your Data, You're Practically Handing Your Wallet To Cybercriminals!
Read our free report on The 7 Most Critical IT Security Protections Every Business Must Have In Place Now To Protect Themselves from Cybercrime, Data Breaches And Hacker Attacks and arm yourself with the knowledge you need to protect your business from a data disaster.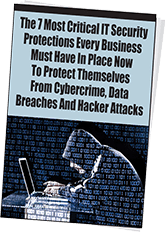 Download This Free Report To Learn:
The #1 threat to your business that even the BEST firewalls and anti-virus software can't protect against (and what you need to do now to remedy it).
The biggest security risks with cloud computing and what you need to do to stay safe if you're going to store client data, confidential data and financial information in the cloud.
A common misconception about business bank fraud that will shock you – and 3 simple things you can do to protect your bank account from unauthorized access and theft.
How to keep your network secure with the proliferation of mobile devices, cloud applications, e-mail, and social media sites connecting to your computer network.
Ready to learn more? Click here for a FREE, no-obligation onsite network assessment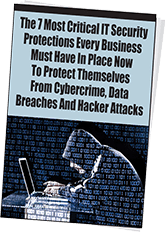 Fill Out This Form To Receive Your


FREE

Report