Network Security
Safeguard Your Business Data With Our Network Security Solutions
---
SRV Network specializes in the creation, implementation, and management of complete data and network security solutions. Effective network security is a dynamic and constant process. At SRV, we believe in a proactive approach to business safety that results in well-designed security infrastructure
7 Business Elements That Are Critical To Your Safety:
Your Employees – The premier cause of security breaches is human error. A lack of training coupled with messages designed to fool and deceive often cause employees to unwittingly compromise the online security of your company, regardless of how secure the network is. At SRV we offer a comprehensive employee training program that gives your employees the tools to keep themselves, and your business, better protected. Schedule your appointment today and let SRV Network train your employees!
Your Network – whether its cybercriminals or other uninvited visitors trying to corrupt your network and shut down your productivity, you need a plan to protect yourself from any and all threats. SRV Network provides you with VPNs, firewalls, vulnerability scans, penetration testing, and more – allowing you to grow your business with peace of mind.
Your Devices – if any of your employees are taking company data home with them, your chances of having a breach occur increase dramatically. Thankfully, you can protect your data by following three simple steps: identifying, tracking, and encrypting.
Onsite Security – While these attacks are less common, it is possible that an outsider or disgruntled employee could compromise your sensitive information from within. SRV Network can help you to improve your physical security by implementing tracking and logging of visitors, limiting access with locked doors, and more.
Your Policies – Do you have clear and concise written policies on the use of and disposal of sensitive data? We can help you make sure your policies follow code and create or improve them if necessary.
Organization – How organized are you? Do you know with 100% certainty where all your important data is? Do you have multiple servers, hard drives, folders, etc. where you keep your data? We can help you locate, understand, and limit where your sensitive data is stored.
Disposal – What happens to your old equipment after it becomes replaced or you transition to cloud computing? Discarded and neglected old equipment can still contain information like passwords and sensitive documents that could place your business at risk. SRV can help by implementing proper procedures to dispose of any devices, equipment, and paper records.
As technology evolves and changes so do the threats posed by cybercriminals and hackers. SRV can make sure that you're up to date with the newest advancements and trends as well as putting plans in place to ensure you're ready to handle a disaster if one does occur.
Call us today at 1(312)-376-2910 and find out how you can eliminate your security worries and get back to doing what you do best – growing your business.
Upgraded Our Entire Network
360 Chicago is the premier observatory in Chicago located on the 94th Floor of the John Hancock building. We're located in three different areas of the building including the 94th, 34th and concourse level all needing to be connected and working together seamlessly. This year we upgraded our entire ...Read More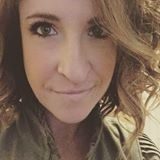 Jennifer Hesser
Director of Operations
360 Chicago
If You Are Not Taking Proactive Steps To Protect Your Data, Your Business And Confidential Information Is Vulnerable To Cybercrime And Data Breaches.
Read our free report on The 7 Most Critical IT Security Protections Every Business Must Have to learn the consequences of cyber-attacks and how to best protect your confidential information to prevent a data disaster.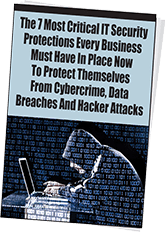 Download This Free Report To Learn:
The #1 threat to your business that even the BEST firewalls and anti-virus software can't protect against (and what you need to do now to remedy it).
The biggest security risks with cloud computing and what you need to do to stay safe if you're going to store client data, confidential data and financial information in the cloud.
A common misconception about business bank fraud that will shock you – and 3 simple things you can do to protect your bank account from unauthorized access and theft.
How to keep your network secure with the proliferation of mobile devices, cloud applications, e-mail, and social media sites connecting to your computer network.
Ready to learn more? Click here for a FREE, no-obligation onsite network assessment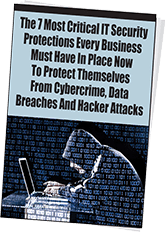 Fill Out This Form To Receive Your


FREE

Report