Data Backup
If Your Data is Important to You, Then You Absolutely MUST Have an Off-site Backup System in Place!
---
The only way to guarantee that your business's critical data is protected from fire, floods, storms, viruses, hackers, hardware malfunctions, and human error is to backup your data and to do it frequently! We offer a wide variety of backup plans ranging from every 15 minutes to every week and we're willing to work with you to find the best plan for your unique situation.
Benefits of Having a Data Backup Plan:
Your files are automatically backed up right over the internet. No more rotating and storing tapes - one more important item off your to-do list so that you can focus on your main area of expertise.
Your data is safe and easily accessible - never have to worry about an emergency stopping you from doing business or losing hours, days, weeks, or months of data ever again.
You can back up ALL of your data and not be limited by the size of your storage devices.
Upgraded Our Entire Network
360 Chicago is the premier observatory in Chicago located on the 94th Floor of the John Hancock building. We're located in three different areas of the building including the 94th, 34th and concourse level all needing to be connected and working together seamlessly. This year we upgraded our entire network. SRV Network, Inc., our service provider for 8 years, worked with our vendors and building riser company to make sure every aspect of the upgrade went smoothly. The upgrade went great and we're very happy with how SRV Network, Inc. helped us through this major upgrade. We value our partnership with SRV Network, Inc. and look forward to working with them in the future.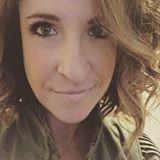 Jennifer Hesser
Director of Operations
360 Chicago
If You Are Not Taking The Proper Steps To Protect Your Data, You're Practically Handing Your Wallet To Cybercriminals!
Read our free report on The 7 Most Critical IT Security Protections Every Business Must Have In Place Now To Protect Themselves from Cybercrime, Data Breaches And Hacker Attacks and arm yourself with the knowledge you need to protect your business from a data disaster.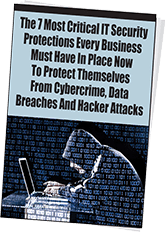 Download This Free Report To Learn:
The #1 threat to your business that even the BEST firewalls and anti-virus software can't protect against (and what you need to do now to remedy it).
The biggest security risks with cloud computing and what you need to do to stay safe if you're going to store client data, confidential data and financial information in the cloud.
A common misconception about business bank fraud that will shock you – and 3 simple things you can do to protect your bank account from unauthorized access and theft.
How to keep your network secure with the proliferation of mobile devices, cloud applications, e-mail, and social media sites connecting to your computer network.
Don't Let A Disaster Put You Out Of Business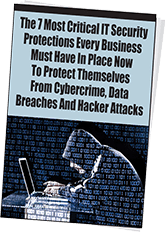 Fill Out This Form To Receive Your


FREE

Report
Important! We hate spam as much (or more!) than you and promise to NEVER rent, share, or abuse your e-mail address and contact information in any way.