IT Support For Property Managers
You Manage The Buildings, We Manage The Network
---
Are you looking for industry leading Managed IT Support for your property management business in the Chicagoland area? SRV Network has decades of experience working with property management professionals to improve their network and get their monthly IT costs under control.
Network security is now more crucial than ever as cyberattacks continue to rise. At SRV we provide the highest levels of security to ensure your confidential information is safe and it is this dedication to service that distinguishes us from our competitors. Through direct network integration and protection services like Mimecast® SRV ensures that your network, and your confidential information, is always safe and secure.
We offer a wide range of IT solutions and support for companies of any size, including technology consulting, managed IT, help desk services, disaster recovery planning, system audits, cloud computing services and storage solutions. At SRV, we personalize our IT management services for each of our clients and take the time to understand the specific needs of your organization to create a service plan that is right for you.
When you choose SRV as your Managed IT Service Provider you are investing in the security, efficiency and longevity of your business as well as ensuring your confidential information stays protected. Through our decades of service, we understand the importance of a reliable and secure network and how devastating a system failure can be. That is why we are committed to providing our customers with the best Managed IT Service and Support in Chicago.
We specialize in:
Security compliance
Firewalls, intrusion detection and prevention
PC network design and support
Servers and workstations
Branch additions and management
Backup and disaster recovery
Remote monitoring, maintenance and support is provided by our expert technicians 24/7/365. System updates, warranty alerts and repairs are remedied before they are allowed cause your business any downtime.
Here are some of the services we provide at SRV:
Server & Desktop Management – Computer systems and servers are updated, backed up and managed remotely. Your network is constantly monitored, and issues can be found and resolved long before they result in a failure.
Remote Support – Telephone and internet support is available 24 hours a day, 7 days a week. Our local staff is able to resolve most issues remotely, getting you back up and running quickly.
Fast, Onsite Response – Because we are centrally located in downtown Chicago, our technicians can arrive quickly to your company's location. Our team is always ready to visit your facility for any issues or failures that require an onsite visit.
Reliable Support Center - Our technicians are always just one call or click away. Give us a call or fill out our support form and our team will quickly and efficiently give you the help you need 24/7/365.
IT Planning & Consulting – Our team of experts can help you decide on the best hardware and software choices to fit your needs now and in the future. From Windows to Mac to Linux, we can support it all.
With over 20 years of experience working with property managers, big and small, throughout the Chicagoland area, SRV Network has network solutions for the hardware and software that are integral to your business's success. If you're looking for professional IT support to drive your business forward and keep your critical data secure, you've come to the right place.
At SRV we can integrate with your current business software provider to ensure you get the most out of your technology and stay up to date with the latest tech innovations. Don't wait any longer, get the support you need to support your business and help prevent tech hiccups, data loss disasters, and cybercriminal activity.
Upgraded Our Entire Network
360 Chicago is the premier observatory in Chicago located on the 94th Floor of the John Hancock building. We're located in three different areas of the building including the 94th, 34th and concourse level all needing to be connected and working together seamlessly. This year we upgraded our entire ...Read More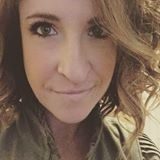 Jennifer Hesser
Director of Operations
360 Chicago
If you are not taking proactive steps to protect your data, your business and confidential information is vulnerable to cybercrime and data breaches.
Read our free report on The 7 Most Critical IT Security Protections Every Business Must Have to learn the consequences of cyber-attacks and how to best protect your confidential information to prevent a data disaster.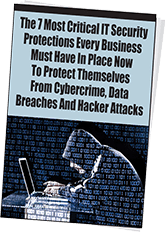 Download This Free Report To Learn:
The #1 threat to your business that even the BEST firewalls and anti-virus software can't protect against (and what you need to do now to remedy it).
The biggest security risks with cloud computing and what you need to do to stay safe if you're going to store client data, confidential data and financial information in the cloud.
A common misconception about business bank fraud that will shock you – and 3 simple things you can do to protect your bank account from unauthorized access and theft.
How to keep your network secure with the proliferation of mobile devices, cloud applications, e-mail, and social media sites connecting to your computer network.
Ready to learn more? Click here for a FREE, no-obligation onsite network assessment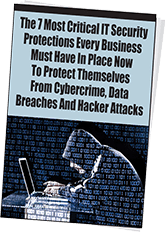 Fill Out This Form To Receive Your


FREE

Report